Introduction: Unmasking Medullary Thyroid Cancer
Medullary Thyroid Cancer (MTC) is a relatively uncommon form of thyroid cancer. Its uniqueness is rooted in its origin – the parafollicular cells or C cells of the thyroid gland, responsible for producing the hormone calcitonin. This hormone's heightened levels in the body can be indicative of MTC. Still, typically, it's the emergence of noticeable symptoms that first flags the potential presence of this cancer type.
Understanding these symptoms can often be a significant first step in early detection, prognosis, and treatment strategy. Therefore, we delve into exploring the top 10 symptoms of Medullary Thyroid Cancer.
Identifying Medullary Thyroid Cancer: The Critical Role of Symptoms
Notably, the initial sign of MTC usually comes from the physical manifestations or symptoms. Recognizing these symptoms early on can have a tremendous impact on treatment outcomes. While it's relatively rare, MTC is serious, and symptoms should never be ignored.
In this exploration of MTC symptoms, the emphasis is on helping you identify the signs early on, increasing the odds of catching the disease in the nascent stages. This identification can be critical in formulating an effective treatment plan.
Symptom 1: A Distinct Lump or Nodule in the Neck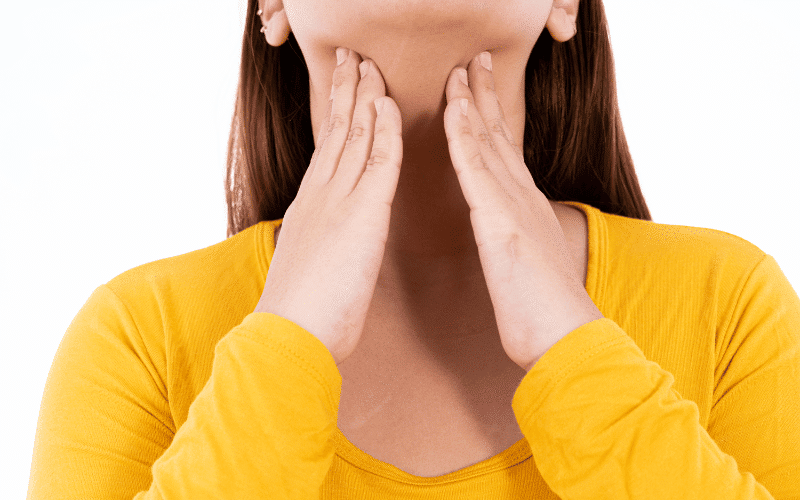 One of the first, and often most noticeable, symptoms of Medullary Thyroid Cancer (MTC) is the emergence of a lump or nodule in the neck. This lump typically originates in the region near your Adam's apple. This symptom is a direct manifestation of the tumor proliferating within the thyroid gland.
Although these nodules may initially seem harmless, often being painless and barely visible, they should not be overlooked or dismissed. Even a small lump warrants a consultation with a healthcare professional. Early detection and treatment of thyroid nodules can drastically improve patient outcomes, reducing potential complications down the line.
These lumps or nodules can sometimes be felt during a routine physical examination. However, smaller nodules might not be physically discernible and might only be detected through an ultrasound or a similar imaging study. A biopsy may be required to determine the nature of the nodule — whether it is cancerous (malignant) or noncancerous (benign).
The American Thyroid Association recommends that adults routinely check their necks for any signs of lumps, swelling, or enlargement that could indicate the presence of a thyroid nodule. This self-examination can be done at home and takes just a few minutes. (1)